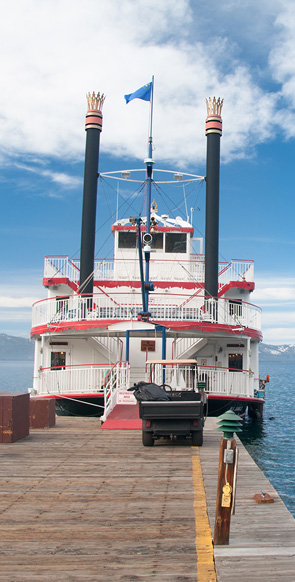 Lake Tahoe history
Lake Tahoe radio stations are a great way to keep listening while you shoot through that chute, whether it's lined with snow or dirt and gravel. These days the quiet of the slopes, perhaps with the whistle of the wind reminding you of time's passage, just isn't enough. There's got to be piped in music, talk, or at least light banter, while you traverse one of the more corporeal pipes providing a shortcut down the mountain. Maybe the drive to the North Shore or Reno goes easier with some local news. And, what're you going to do while you wait for that monster predatory trout to decide your bait is lunch? Well, there's always the music, the politics, and the mindless banter of your local radio station. Here are some of the better known ones that seem to have a Tahoe focus (except, of course, for the public radio station).
KRLT 93.9, The Lake, features hits from the 80's, 90's, and today. They advertise themselves as having music, news, weather, and talk. This station broadcasts from South Lake Tahoe and can be heard all around the Tahoe lakeshore.
KWYL 102.9, Wild 102.9, is South Lake Tahoe's party station with plenty of Hip Hop,
KTHO 590 AM, is Liberal talk radio in South Lake Tahoe.
KLCA 96.5, Alice 96.5, plays some Nickelback, some Sarah McLachlin, and Perl Jam out of Tahoe City. Their studios are on the 14th floor of the Truckee River Office Tower.
KTKE 101.5, is in Truckee and plays The Grateful Dead and Bob Marley. If you're into that particular sound, from that particular era, you just might find it on this station.
KRNO 106.3, better known as Sunny 106.9, is a soft rock station that has several different frequencies, no doubt depending on which side of which mountain you're on. In Incline Village it's 106.3.
KKTO 90.5, Capital Public Radio, is actually KXJZ 90.9, out of CSU Sacramento. Technically, the local transmitter is in Tahoe City. It's the usual public radio fare with news, music, and commentary.
KSRN 107.7, is a Spanish language station transmitting from Kings Beach.
And you thought you were headed out into the wilderness of the Wild West? Perhaps, but the sound waves are crowded here in Lake Tahoe, and with much the same fare you're used to at home.