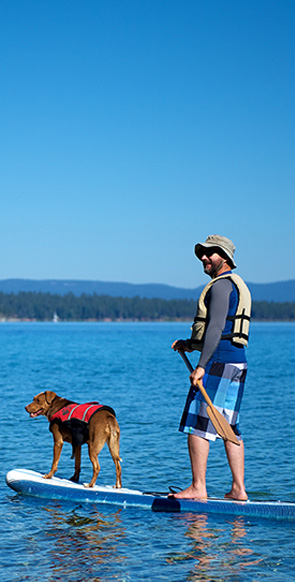 Downhill at Heavenly
South Lake Tahoe's Heavenly Resort is reached by gondola from the base of the mountain right in the middle of town. And guess what? The 3Peaks Hotel and Beach Club is practically next door to the Heavenly Gondola and Heavenly Village Shops. With skis slung over their shoulders and snowboards tucked under their arms, 3Peaks hotel guests trudge the two blocks to the base of the Heavenly Gondola every morning during the winter months. This is hard work for the downhill set; perhaps the farthest they'll have to walk under their own power all day long. Nevertheless, those that survive the trek – and everyone does – are gently lifted along the 2-1/2 mile length of the gondola's route to Adventure Peak at 9,156 ft.
Adventure Peak is where beginners can learn to ski, showshoers can trek about the area, sledding for children under 6 years of age is available, as is supervised tubing, even snow biking. After all that exercise exhausted adventure seekers can kick back at the Adventure Peak Grill and refuel for the next few hours on the slopes. There are ski schools for adults and kids for skiing and snowboarding targeted at all experience levels. Adaptive ski instruction is available for the adventurous disabled as well. Parents will be happy to make use of the day care services and even combinations of day care and ski or snowboard instruction are available. These activities for the most part are centered around the Adventure Peak area. Several lodges are strategically located elsewhere on the mountain for the convenience of weary skiers and riders.
With 30 lifts, 91 trails, a people hauling capacity of 52,000 per hour, with a peak at 10,067 ft., and a vertical drop of 3,500 ft., Heavenly is one of the grandest downhill ski resorts in the country and by far and away the largest in California. But to take full advantage of all that mountain, you'll want to get farther up the hill than Adventure Peak. To do that, take the Von Schmidt trail down to the Sky Deck. Here the Sky Express lift will whisk skiers nearly to the top of the mountain at 10,040 ft. From this point virtually every trail in the resort is accessible. As you face the lake, you can go left along the Ridge Run. Several downhill trails of varied difficulty peel off to the right as you travel to the west along the ridge. If, as you face the lake, you ski to your right or east, you'll find yourself on the Skyline Trail that meanders along until the Milky Way Bowl. From here the California Trail leads to several intermediate trails. The Milky Way, however, takes you down an advanced slope to Killerbrew and Mott canyons where only the most expert skiers and snowboard riders are welcome. Everyday at 3 PM the Ski Patrol sweeps these areas, collecting bodies.