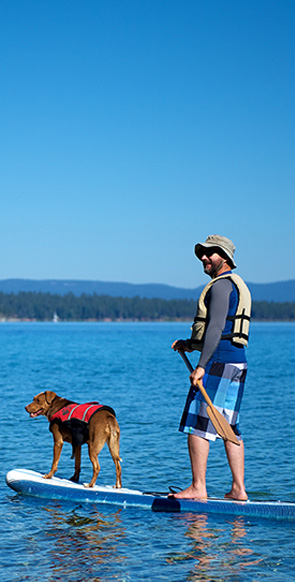 ADVANCED HIKING IN SOUTH LAKE TAHOE
For the experienced hiker South Lake Tahoe offers a number of options depending on how hard you want to work and how long you want to wander in the wilderness. The Glen Alpine Trail is rated "moderate to difficult" and offers numerous options depending on your mood. Grass Lake is two miles from the trailhead. The alpine lakes of Susie, Heather, and Aloha, are 4, 5, and 6 miles respectively along a single route that also includes a small waterfall along the way.
For a really good workout, experienced hikers can choose between the 1-2/3 mile Clark Trail that has a steep grade, loose shale, and the Upper Angora Lake as a payoff and the Mt. Tallac Trail. The first half of the Mount Tallac Trail, past Floating Isle and Cathedral lakes, is not strenuous. Beyond Cathedral Lake, the trail heads right up the face of Mt. Tallac and is about 3,000 ft. above the trailhead. We're talking potentially significant changes in weather. A windbreaker, plenty of water, and careful scheduling so as to leave time for the return trip, are all considerations on this hike. The views of Lake Tahoe, Fallen Leaf Lake, and the Desolation Wilderness are magnificent. The entire route from trailhead to mountain top is 5 miles (one way).
When planning your hike remember to comply with USDA Forest Service regulations. If you are only going to be on the trails during the daytime, you can usually get a Wilderness Permit at each trailhead. If you plan on camping, however, it's necessary to visit the Forest Service Visitor Center where you can not only get the permits you need but maps, brochures, and no doubt sage advice. Nobody knows the trails and terrain like the Forest Service, and visitors are encouraged to pick their brains before heading out.
If you need to know how to get to one of these trailheads you can ask at the Forest Service Visitor Center or check out the directions at http://www.tahoesbest.com/Hiking/trailsbyregion.htm#South.