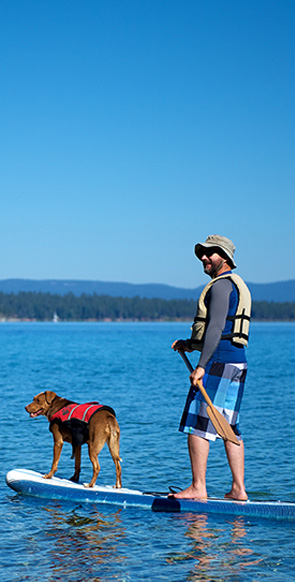 Mountain Biking south lake tahoe
South Lake Tahoe mountain biking is a great way to work up an appreciation for the comfortable accommodations at the 3 Peaks Resort and Beach Club. After a day of frame bending, teeth chattering, dirt eating ecstasy, nothing beats a soak in your room's tub and a brief nap before hitting the casinos. But first, the ecstasy. Here are three mountain biking trails convenient to the resort and guaranteed to justify that evening soak.
Whether it's called Angora Lakes Climb or Angora Ridge, this biking trail is a great introduction to the mountain biking experience for beginners and a beautiful, relaxing ride for the more experienced. Partially paved and partially dirt, this trail proceeds about two miles to Angora Lookout and then another two miles to Angora Lakes. Along the way, the views of Mt. Tallac and Fallen Leaf Lake are spectacular. In fact, from Angora Lookout the panoramic views of Lake Tahoe and the Desolation Wilderness are magnificent.
Mr. Toad's Wild Ride is a highly technical, dangerous, stomach turning 1,500 ft. descent from the 7,200 ft. trailhead at Big Meadow. Several really rough rock chutes and drops of up to six feet make this a ride for strong-at-heart experts. The 13 mile ride can be combined in a circular route that roughly follows Route 89 south from Meyers towards Luther Pass a bit less than 4-1/2 miles. The trail then winds its way back down to Meyers in some beautiful and occasionally hair-raising back country. Technically, this part of the ride, the hard part, is referred to as the Saxon Creek Trail. If you plan on making the entire circuit, be sure and take along plenty of water as some riders report running out well before completing the circle.
The Flume Trail is located in Lake Tahoe Nevada State Park and is popular enough to be crowded at times. To get to the Flume Trail begin at Spooner Lake, work your way uphill to Marlette Lake, where the trail proper actually begins. Crossing a dam, the trail follows a ridge for approximately 4-1/2 miles and ends at Tunnel Creek Road. This is an expert ride exclusively for those not afraid of heights! Floating 1,300 ft. above Lake Tahoe, the views along this route can be quite distracting. But, then, isn't that at least part of the point?